We are a team of veteran hunters who review hunting accessories. Today we will look at the First Lite Sanctuary Jacket review; it is an insulated jacket meant to keep you warm during cold weather.
The jacket is an integrant of the First Lite Layering Kit. It is constructed with seven layers of fabric; this is one of a kind design that First Lite invented. Here is a comprehensive First Lite Sanctuary Jacket review to help you understand if you should invest in it.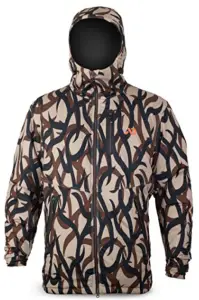 Specifications:
Made with 37.5 Synthetic Insulation

Weight: 55 ounces

Insulated body: 200g 

Insulated sleeves and hood: 160g
Main features:
The First Lite Sanctuary Jacket can be used in temperatures below 20 degrees Fahrenheit.

Active Carbon Technology

Seven different layers of fabric

Neutralizes perspiration

Water repellent DWR exterior that prevents the penetration of snow or rain.
Design:
The First Lite Sanctuary Jacket uses a unique 37.5 material infused with Active Carbon technology. The technology neutralizes perspiration outside the jacket. It is constructed with seven different layers of fabric; this is a proprietary design by First Line.
The seven layers include a windproof instrument; it also has insulation that makes you warm. It is designed to be extremely quiet; you will be able to use your weapon without any restrictions and take accurate shots.
The normal size of the jacket is a little bit bigger than expected since it is intended to be worn on top of other base layers. The First Line sanctuary is designed to allow utmost warmth in extremely cold weather conditions. It also has a water repellent DWR exterior that prevents the penetration of snow or rain.
It also features pockets where you can keep some accessories, like your phone. We must mention three pockets on the outside, two on the hop, and one on the chest. The pockets had to be handled by a zipper. We found that the zipper was too tight; you will need both hands to use it. We also noticed that there was a lack of stilts to attach a safety harness.
Functionality:
The purpose of the First Line Sanctuary jacket is to keep you warm on cold days. You do not have to let the weather be a hindrance to your hunting activities. The First Line Jacket helps you carry on with your hunting activity with comfort.
One thing we were skeptical about was the durability of the material; it seemed rather fragile. The outer layer may be prone to get cut or torn on by branches while trailing different terrains.
First Lite Sanctuary Jacket Review: Conclusion
We found the First Lite Sanctuary jacket to be extremely lightweight and comfortable. It does a good job of keeping you warm. The outer layer protects you from getting wet from the rain or snow, while the inner layers regulate and increase your body temperature.
The gear is quiet and helps you maintain your stealth; you will also draw and use your weapon unrestricted. It does not hinder productivity. We love hunting with this jacket, and we cannot seem to recommend it enough!