Barnett crossbows introduced the latest crossbow in the year 2016 that is highly affordable. Barnett Raptor Fx2 is the best beginner's bow, which provides more value. There are three versions of this crossbow: one has 4×32 scope, the second has a Premium Red dot scope, and the third is Lady Raptor Fx2. Let's find out more in this detailed review.
Specifications of Barnett Raptor FX2
The shooting power of Raptor Fx2 is rapid being the bow for beginners. This crossbow allows you to conveniently hunt in the range of 40 yards at 330 feet-per-second. However, it has the ability to shoot further as well.
In addition, it has a kinetic energy of 97 pounds and this is why it is the perfect selection for hunting turkey or even deer. The crossbow has a weight of 6.4 pounds that makes hunting on uneven grounds much easier. It has a crosswire string along with a cable system and a composite coated limb that hunters can customize as well.
Raptor Fx2 does not cause any issues while reloading even with 150 pounds of draw weight due to the rope cocking tool that comes with the crossbow. The crossbow is compact with 18 inches in width and 34.35 inches in length, and 12.5 inches of the power stroke.
Cocking the Raptor Fx2
The crossbow's draw weight is 150 pounds; therefore, hunters can draw it using hand without any struggle. The draw is nice and smooth, but using a rope cocking mechanism is highly suggested. Because with this, you will get a persistent, equal, and more reliable draw for smooth and undisturbed hunting.
Features of Barnett Raptor Fx2
The Raptor Fx2 is ideal for beginners as it is well-equipped with all the things that a hunter needs. This crossbow features a CNC machined tactical rail of ⅞ inche, so hunters can personalize it with any accessory they want.
With this, there is an easy handle and finger reminder as well. Since it is light in weight, so it lets the weight to remain down for children and women to carry. On the edges of the stock, there is a flexible butt pad to make hunting position comfortable. 
The most important thing is that this crossbow contains a distinct camo design known as Realtree Hardwoods. Barnett as a giant in the crossbow industry, also includes a soft case for the Raptor Fx2 to keep it secure and fit. 
Shooting power
Despite this crossbow being only for entry-level hunters, it has a great shooting power. But there is fairly enough recoil yet you will get used to it in no time.
Safety and layout
The Raptor Fx2 comes with safety along with anti-crossfire tool that works accurately all the time, and the design of the crossbow is actually nice. 
Packages of Barnett Raptor Fx2
The packages of the Raptor Fx2 are different in terms of scope. For instance, if the hunter likes hunting from a good distance, they should opt for 4×32 scope. 
However, if the hunter is comfortable shooting from a close distance and like to aim faster, they should go for red dot scope as it will be a perfect choice for them. Moreover, because of the Barnett tactical rail, swapping the scopes to try something different has become easier than before.
Assembling method
The Raptor Fx2 comes together in no time and with ease. It is easier to install the rises on the stock, connect the foot clips, and then set the arrow container along with the scope. The hunters only need to spend around 15 minutes to assemble this together, and then they can go for hunting straightaway.
Bolts for Barnett Raptor Fx2
With the Barnett Raptor Fx2, hunters get a maximum of 3 bolts in the package. So the best crossbow bolt at a lower price is none other than Barnett outdoor carbon arrow. 
For the reason that it contains a good number of 5-star reviews and works fine with Barnett Fx2. you should totally go for them, especially if your budget is tight.
Are there any Drawbacks? 
One of the drawbacks, this crossbow may have that it does not lie flat in tactical rail, the front of the crossbow raises up off the rail, which makes holding it tight harder for the hunter. Secondly, the strings can snap often making hard for the hunter to continue hunting the animals.
Should you really buy Barnett Raptor Fx2?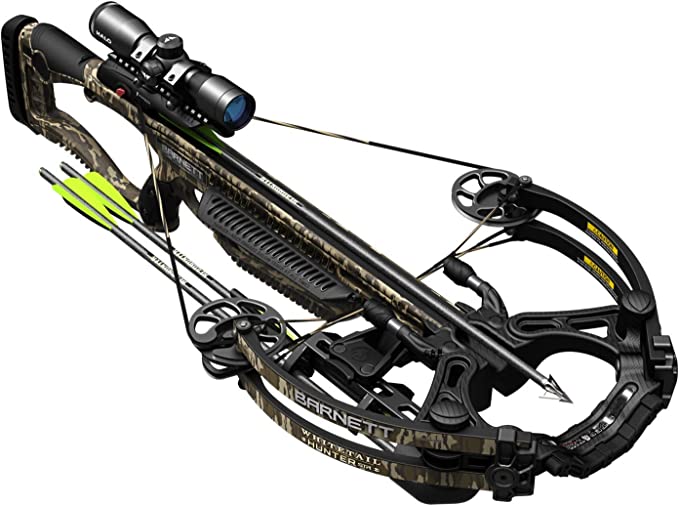 Barnett Raptor Fx2 is the best crossbow you need to purchase right away as it comes from a reputed manufacturer. The performance of this crossbow is amazing that suits new hunters and expert hunters as well even on a tight budget. 
The features that come with this crossbow equal to other crossbows having a high price. Therefore, it is not a deal to miss. Purchase the product here: https://www.amazon.com/Barnett-78062-Raptor-Crossbow-Scope/dp/B01B7R0CMK