Harris Engineering bipods are often regarded as the most consistent and value-for-money options available on the market by most shooters. We examine the forms and characteristics that have helped the group's bipods become so popular. Here we will provide detailed information as well as reviews about a variety of Harris Engineering Bipods.
Harris Engineering bipods are widely regarded as the gold standard when it comes to high-quality bipods. In addition, they have a lightweight material design that does not add weight to the rifle, so you'd be tempted to keep it on the rifle set to use.
They are simple to set up, with the notched leg type extending out in an instant hit and the normal legs folding instantly. The concept of how they're so sensitive and hardly visible when mounted feet front to the rifle adds to their allure.
But there are some that can compete with them in terms of price to functionality. This is because they are built of high-quality materials as well as provide a solid and dependable foundation that is simple to use.
The model range is wide, and they provide various characteristics that enable the shooter to select which model will best fit their demands. Effortless operation, the versatility to handle rebound effectively, and a reasonable low weight are all characteristics shared by the whole line.
Harris Engineering Bipods- Different Types Of Models Available.
Harris Engineering S-BR Hinged Base 6 – 9-Inch BiPod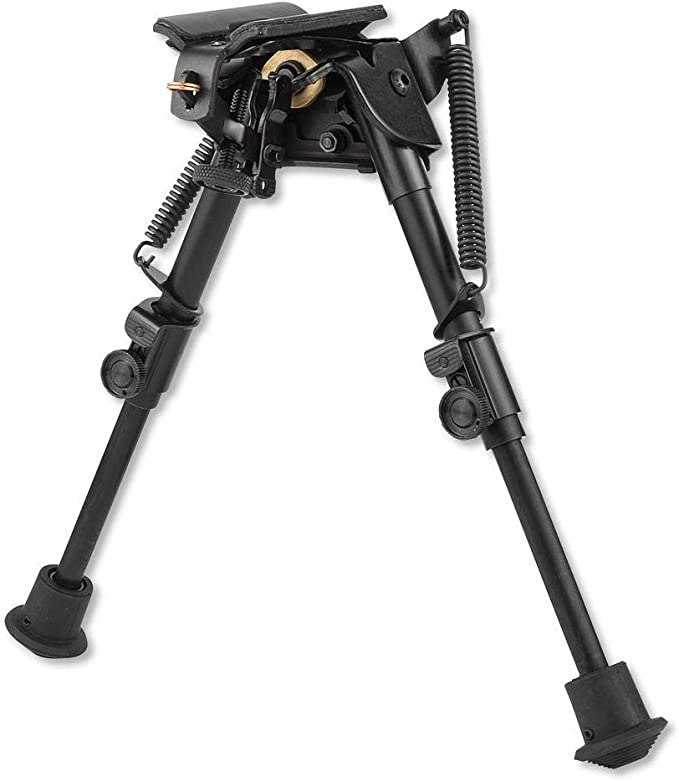 Harris HBR
This must be the most conventional of the bench rests, with a height adjustment range of 6″ to 9″ with standard legs.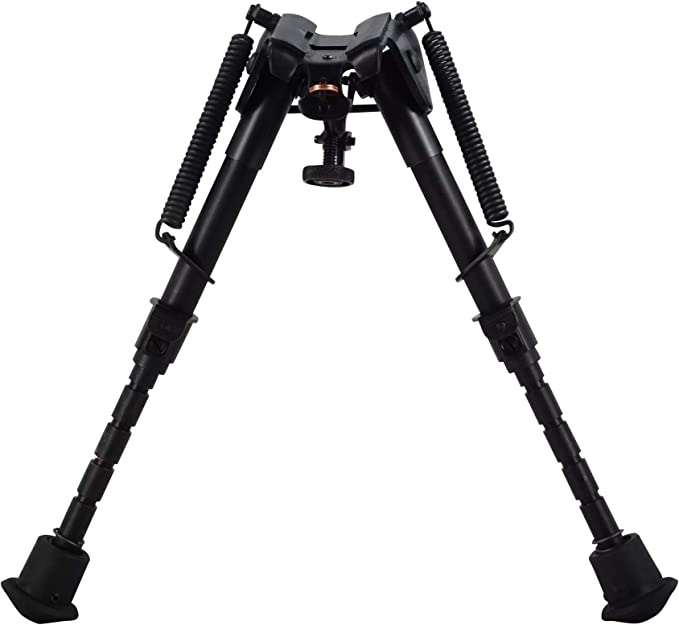 Harris HBRS 
This is a bench rest Harris bipod featuring standard legs and also a customizable height from 6″ to 9″. It belongs to the swivel line, which indicates it rotates sideways to balance uneven terrain.
Harris HBRM 
This version is among the bench rest line and can be changed in height from 6″ to 9″, but it also has the additional features of the legs being notched at 1-inch increments and ejecting by spring force.
Harris HBRMS 
This is a bench rest Harris bipod that adjusts in height from 6″ to 9″. All of the primary elements are swivel series to accommodate for uneven ground, and the legs are notched in 1-inch increments as well as eject through spring tension.
Harris HBL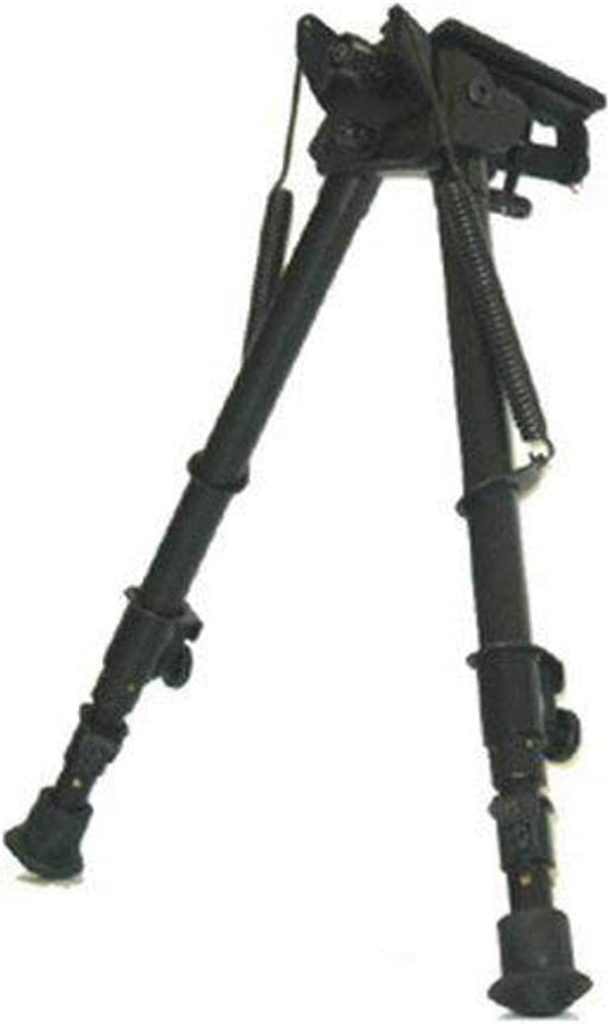 This is the basic lightweight variant, measuring only 10.8 oz. The bipod comes with standard legs which extend from 9″ to 13″.
Harris HBLS
With a weight of only 10.8 oz, this is the middle height type in the lightest weight range. The bipod has conventional legs that stretch from 9″ to 13″ in length, and it swivels to enable it to be leveled when positioned on rough terrain.
Harris HBLM
With a weight of only 10.8 oz, this is the middle height edition in the ultra-lightweight range. The bipod has notched legs that expand from 9″ to 13″ and may be adjusted irrespective of one another in one-inch increments as needed.
Things to Think About When Buying a Harris Bipod
What type of bipod is ideal for you? Do you like a solid or hinged base? What is your usual shooting stance? Are you seeking a multi-featured bipod or perhaps a simple bipod that will get the task completed? All Harris Bipod models have been developed in standard and upgraded versions; each additional letter in the model name indicates that the design has more functionality.
The Harris Bipod range is entirely produced in the United States of high-quality aluminum alloy and steel, and almost all of the bipods (even the tall versions) weigh under two pounds. They are also all easy to set up and do not necessitate any tools.
M Style
Notched legs characterize "M Style" bipods. These notches offer precise height references and guarantee that both sides of such bipod Harris are at the same level, resulting in a level, amazing shot.
S Style
Bipods with a swivel function are called S Style bipods. If you want to use your rifle on uneven terrain, the swivel is an excellent method to adapt without having to change the heights of the bipod legs. Swivels are great for quickly making small changes.
Model L
These Harris Engineering bipods feature standard legs that reach from 9 to 13 inches and have also been awarded the L label due to their modest profile.
Model H
All of those are high-profile Harris Engineering bipods for prone or seated shooting. H series bipod legs range in length from 13.5 to 23 inches.
Model 25C
These Harris Engineering bipods are tall, and they are made of three pieces. These bipods are customizable from 13.5 to 27 inches.
Features Of Harris Engineering Bipods
Harris Engineering bipods are highly popular because they are sturdy, dependable platforms built of high-quality materials. In addition, their range is fairly large, with sizes designed to suit all shooting positions – prone, sitting, and bench – as well as other attractions.
Versions that enable the weapon to be adjusted from side to side to adjust for rough terrain are provided. The 45-degree tilt function eliminates the need to adjust the legs regardless of the irregular ground constantly.
The bipod's legs are available in either conventional or notched configurations. The notched legs snap securely and may be adjusted separately in one-inch increments.
A hinged base featuring tension adjustments that lock solidly is also available for increased accuracy and stability.
Models with a lower profile – referred to by the business as the bench rest line – are available, and their height may be adjusted from 6″ to 9″.
The next series is the high-ranking variety of lightweight bipods, which are customizable from 9″ to 13″.
Varmint hunting Harris Engineering bipods, which are extendable from 13.5″ to 23″, have the highest profile in the series.
Harris goods are created entirely in the United States of America and are finished in a black anodized finish employing heat-treated steel and strong alloys.
Ultralight Bipods
The advent of the series of lightweight bipods has been one of the aspects that have enhanced the appeal of the Harris range.
When it pertains to shooting, heaviness is an important consideration, especially for hunters who are on the go and must carry a lot of gear. However, Harris has always been able to lose weight without compromising on performance.
The 1A2-BR series is a bench rest bipod that provides a strong and stable rest while providing very little weight. It has a height range of 6 to 9 inches with a hinged or solid base.
Straight Legs vs Notched Legs
It may appear strange to some to have the choice of purchasing a Harris bipod either with straight or otherwise slotted legs. However, the advantage of utilizing a bipod featuring notched legs is that you could always rapidly adjust the legs to the same height.
This is useful when shooting from flat ground, such as for a benchtop, because you want the legs to latch in rapidly at the same height.
However, many shooting engagements will place you on rough terrain. Straight legs provide you with more flexibility in this position. Since the legs may be adjusted irrespective of one another, you could adjust them to any height you need to level the weapon. Because of the friction latching mechanism, you may make small changes as needed.
The HBRMS has notched legs that adjust in 1-inch increments, as well as a swivel function that helps level the bipod on rough terrain. Furthermore, you may choose the HBRS model, which has a swivel function as well as the option to adjust the elevation of the legs to the precise height you require.
Final Conclusion
When it concerns acquiring a bipod for your rifle, Harris Engineering Bipods are indeed the solution to go. They are the most robust, highest-quality bipods on the market.
These American-made items, composed of aluminum alloy plus steel, are built with the shooter in consideration and involve zero equipment for assembly. As a result, many shooters think that Harris is the greatest brand in the bipod sector.
When it pertains to picking a bipod for your rifle, the decision is entirely up to the shooter. When choosing a bipod, consider the shooting positions, where you'll be shooting, the shooting circumstances you'll be in, and perhaps even the shooting style. Hinged bases vs. solid bases, swivel possibilities, quick-release legs, and notched legs are all elements to explore.
Additionally, additional adapters are supplied for practically any type of adjustment you'd want to achieve, from swivel tension possibilities to 180-degree rotation.
The 6-9 in. bipod versions are the most preferred since they are ideal for bench shooting. Additionally, it is said that the closer you are towards the ground, the more precise your shot will be. The 9-13 in. versions perform the same purpose as the 6-9 in. variants; however, they are somewhat more flexible and perform well with heavier shooters.
Taller bipods are designed for certain reasons and are ideal for hunters who must contend with snow. In addition, they are ideal for shooters who hunt or fire from a lying posture, as well as those who sit during shooting. Men six feet or taller can indeed gain tremendously from a higher bipod.
Overall, bipods are excellent for all sorts of shooters. They keep the gun at an equal level, which helps to improve precision.
Harris Engineering Bipods is now the most reputable name on the market when it concerns buying a bipod. Their layouts are user-friendly, the elements are long-lasting, and the quality of the product far outperforms just about any other brand.